Episcopal consecration of the UGCC bishop, Mykola Bychok, to take place this Sunday in Lviv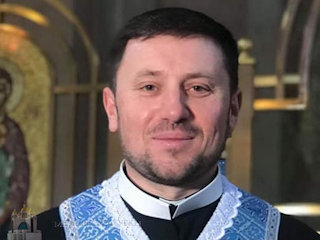 On the eve of the episcopal consecration, the rite of bishop's nomination will take place on June 6, in the Church of the Holy Martyr Mykola Charnetsky in Lviv. On June 7, the consecration will take place in the main Cathedral of St. George in Lviv
On Sunday, June 7, the episcopal consecration of the nominee bishop Mykola Bychok will be held in Lviv.
This appointment became known in the Vatican on January 15, 2020, when Pope Francis announced Fr Mykola Bychok a new Eparch of the UGCC eparchy of Sts Peter and Paul in Melbourne.
However, the consecration was postponed due to the pandemic.
On the eve of the episcopal consecration, the rite of bishop's nomination will take place on June 6, in the Church of the Holy Martyr Mykola Charnetsky in Lviv. On June 7, the consecration will take place in the main Cathedral of St. George in Lviv.
In an interview with SBS Radio Australia, the nominee bishop said: "When His Beatitude Sviatoslav called me and said that the Holy Father had blessed the decision of the Synod of the UGCC, and I was elected bishop and added that in Australia, I was utterly shocked. Therefore, this week of reflection was tough for me. On the one hand, as a priest, I understood that vocation to the episcopate is a huge responsibility. A priest in his parish is responsible for the spiritual growth of people. He must be a role model for them. But when we talk about the Bishop, it should be multiplied by ten…This is a huge responsibility. It's too early to talk about the first steps in Melbourne because I've never been to Australia before. I only have certain information from the current Bishop Peter Stasyuk, who served in New Zealand for three years. He also spent some time in Australia and conducted recollections in our parishes. Second, I don't know when I'll get to Australia yet, because now the coronavirus pandemic is ongoing. Each state sets its own rules for lifting the quarantine. No one knows how it will be happening in Australia. I am waiting for a visa, and I have submitted documents to this end. Today I spend my time to prepare well for ordination."
According to the nominee bishop, he already lives the life of the Diocese in Australia, continually following the broadcasts of Liturgies, not only from Melbourne but also from Sydney.
"Now, I am observing the life of our Church in Australia. I try to read about the history of our Church. An interesting fact for me was that two Redemptorist fathers from Canada were among the first to help found our parishes in Australia. The second shock to me was that even local Australian Redemptorists were learning our rite and language. They were of Australian origin. This way, they helped our Church more. It is a sign and a blessing to me that the Redemptorists also made a significant contribution to the rise of our diocese of the Holy Apostles Peter and Paul."
Fr Mykola Bychok will become the third Eparch of the UGCC in Melbourne.