Way back when, Archbishop Stefan made the choice regarding the patronal icon of the Ukrainian Catholic Mission in Front Royal. The Mission was given Saints Joachim and Anna, grandparents of the Lord, as their mentors, so of course the search was on for an appropriate image for the iconostasis.
The first thought was to choose a more visually exciting image, that of the couple apparently dancing before the city walls of Jerusalem, the icon known as the Golden Gate.
However, in the interests of accuracy and correct theology, this icon was rejected in favor of one merely depicting them standing side by side.
Why? The answer is simple: the two images, though both appear to celebrate the sanctity of Joachim and Anna, are actually completely different theological statements!
This brings us to the second image. Here we find Joachim and Anna gazing at us from the icon, radiating stillness and peaceful regard.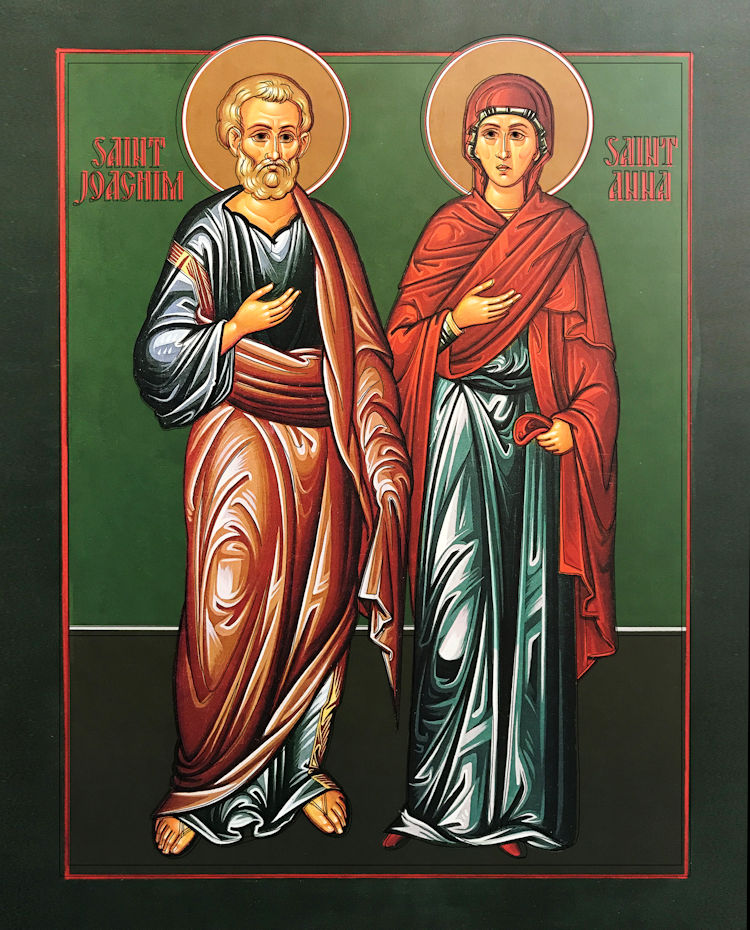 The icon presents to us the sanctified couple; they have run their course, they have persevered in God's will, they have accomplished their personal salvation. This is properly considered the appropriate icon for the patronage of Saints Joachim and Anna Ukrainian Catholic Church. They stand as models of perfection for the faithful, perhaps most poignantly for the grandparents in the congregation, but given their relationship to Mary and Jesus, everyone can find grounds for holy contemplation before this image.
There is perhaps a further lesson. Our age is all too prone to disregard the elderly as "out of it," as boring, not understanding the younger generation and no longer any fun at all. Yet, here we find the grandparents of God in the flesh, dispensing wisdom to us through their icon. They are not "out of it" at all; in fact they are "in it" to a degree none of us on earth have yet managed, and we disregard them at our very great peril.